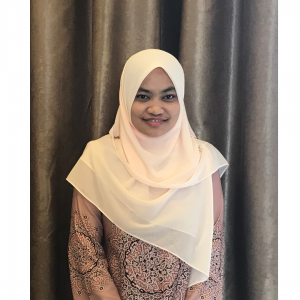 Wan Zahidah Wan Zulkifle is Assistant Director of Sejahtera Centre for Sustainability and Humanity, IIUM. She received her Bachelor of Medicine and Surgery from Universiti Sains Islam Malaysia and Master of Human Sciences in Psychology (Industrial/Organisational) from International Islamic University Malaysia.  
Before she decided to leave medical practice, she founded Kintsukuroi Doctors' Support Group in Hospital Kuala Lumpur, a support group for doctors, focusing on workplace and psychological wellbeing of junior doctors or house officers. The group was later officially established and replicated at various hospitals in Malaysia.
She is one of the Secretariat of RCE Greater Gombak and Secretary of IIUM Special Mental Health Strategic Planning Task Force. Her current work at the centre focuses on Sustainability-related Publication and Awards, Education for Sustainable Development (ESD), and community empowerment with a special focus on health and wellbeing.
An avid writer, she aspires to share sustainability practices of the university, and RCE Greater Gombak through her formal and casual writings.
Email : zahidahzulkifle@iium.edu.my
Phone: +60364215411